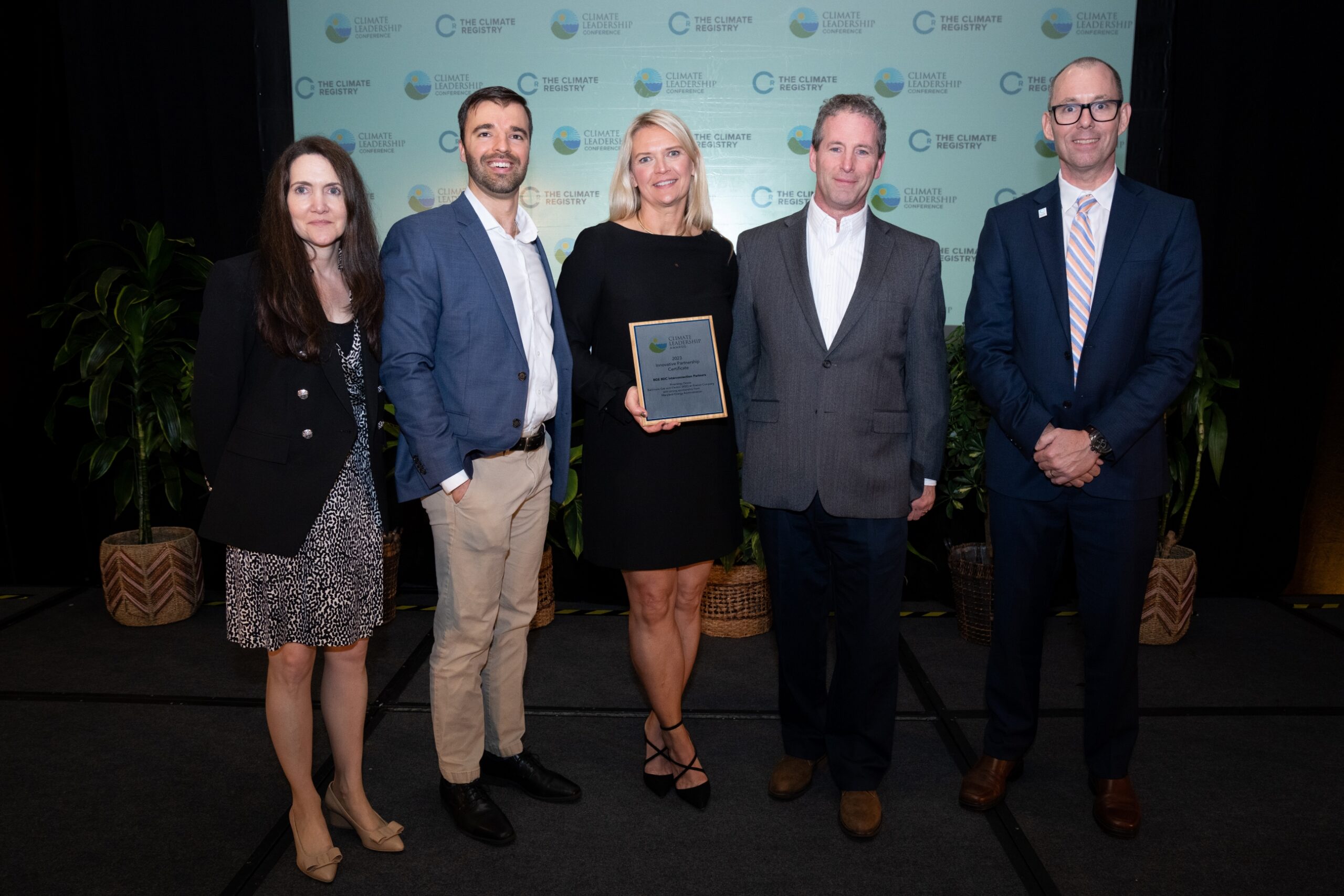 Bioenergy Devco, Exelon Corporation, Baltimore Gas & Electric and the Maryland Energy Administration Recognized for interconnection partnership to send RNG output from organics recycling directly to the local utility system.
Annapolis, Md. May 11, 2023 – Bioenergy Devco (BDC),the North American division of BTS Bioenergy, LLC and global leader in the design, engineering, construction, financing and operation of anaerobic digestion facilities to recycle organic material and produce renewable natural gas, has been selected by The Climate Registry for recognition in the Innovative Partnership category of the 2023 Climate Leadership Awards. The award recognizes Bioenergy Devco's partnership with Exelon Corporation, Baltimore Gas & Electric and the Maryland Energy Administration for the interconnection project at the Maryland Bioenergy Center connecting renewable natural gas output from BDC's anaerobic digester directly to the public utility supply.
"We are honored to receive this recognition from The Climate Registry for our work on the Maryland Bioenergy Center project," said Shawn Kreloff, CEO of Bioenergy Devco. "This project is a prime example of how partnerships can drive innovation and create a more sustainable future. We look forward to continuing our work with municipalities, utilities and legislators to advance renewable energy solutions in Maryland and beyond."
The Maryland Bioenergy Center project is a groundbreaking initiative that has the potential to significantly reduce greenhouse gas emissions in Maryland. The partnership is leading a large-scale renewable energy project for the state of Maryland by converting food waste from the state's wholesale food distributors and distribution centers into renewable natural gas for use in its own onsite Combined Heat and Power plant and inserting renewable natural gas into the main BGE natural gas distribution system.
BDC's state-of-the-art organics recycling facility uses a sustainable and cost-effective process to produce an alternative energy source for heat and electricity while preventing nearly 125,000 tons of landfill waste per year. The site is expected to provide enough energy to power 4,800 homes throughout the area, with BGE helping to distribute the renewable natural gas.
The Climate Leadership Awards are presented annually by The Climate Registry to recognize businesses, organizations and individuals that have demonstrated exceptional leadership in reducing greenhouse gas emissions and addressing climate change. The Innovative Partnership category recognizes partnerships that have shown outstanding leadership, innovation and impact in advancing climate solutions.
##
About Bioenergy Devco
Bioenergy Devco is a global leader in the design, engineering, construction, financing, and operation of advanced anaerobic digester systems. Our proven technology uses naturally occurring biological processes and provides a scalable option to help communities and businesses transform their waste and energy sectors. Headquartered in Annapolis, MD, Bioenergy Devco has built more than 250 and currently manages more than 150 organics recycling and clean energy generation facilities worldwide, and its anaerobic digesters help mitigate climate change by reducing greenhouse gas emissions and dependence on fossil fuel.
Bioenergy Devco Media Contact
Jessica Wheeler, Warner Communications, bts@warnerpr.com 702-539-1596