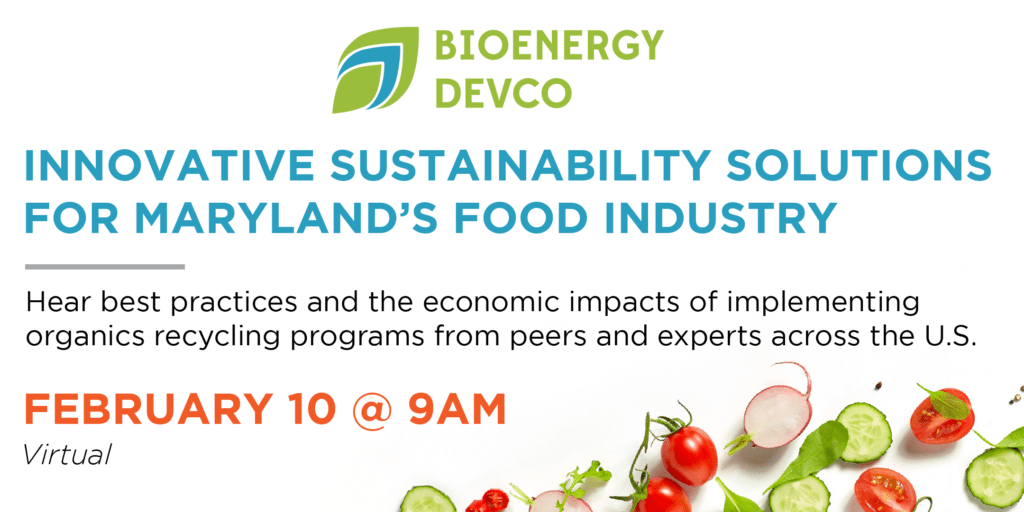 Last month, Bioenergy Devco hosted experts in waste management to discuss Maryland's new organics waste diversion law, best practices for implementing organics diversion programs for food retailers and manufacturers and considerations for working with haulers.
Panelists included:
In this blog post we share highlights from the discussion, including eye-popping facts about food waste, Maryland's food waste imperative and tips on how, collectively, we can meet it. Watch the full event here.
Food waste is big.
Abigail Keller: Everybody knows recycling cardboard and plastic is important, but food waste is just as important. Organic waste makes up a large piece of waste found in the landfill and waste thrown away, especially in the food and beverage industry.
Dave Mrgich: In 2020, over 774,000 tons [of food waste] were disposed of in Maryland. That's 26% of the overall waste stream…about 6.1 lbs. per person a day. And we are at a recycling rate of less than 18% for all of the food waste.
The good news is…
Abigail Keller: Food waste diversion is trending. It's a very hot topic to be a green company. Investors and customers are very focused on this. A lot of our clients are setting these environmental and sustainability goals to help combat environmental issues. So, being a part of that is really exciting for us, and exciting for everyone who joins and decides to make this step to divert food waste.
Dave Mrgich: Maryland's new organics diversion law is part of a larger sustainable materials management strategy. It bans disposal of food from facilities within a certain distance of a composting facility. After January of 2023, if you generate at least two tons of food residuals each week, the law applies. In 2024 it drops to one ton. Now we recycle 18% of food waste. The new law sets a goal of 60% by 2035.
The law applies to individual facilities owned or operated by local schools, primary and secondary schools, nonpublic schools, supermarkets, convenience stores, etc. It applies to businesses, schools, institution cafeterias, or cafeterias opened on behalf of state or local government…and restaurants.
Abigail Keller: As landfill bans begin to expand state by state, a number of states have actually set up laws and regulations for food waste diversion. Companies like Bioenergy Devco have great support from Northstar and Republic to help create food waste programs that allow you to divert as much as possible.
John Neyman: Our intentions are to work with the customers generating more than two tons of organic waste per week. We will work with our existing and new customers to do a waste assessment. Most of our customers now probably have trash and single-stream recycling service. We would go in there and look to see what we can do about adding organics, and partner with Bioenergy Devco to make sure the material reaches their requirements.
The benefits of waste diversion are environmental, financial—and social.
Abigail Keller: Why start a waste program? There are a lot of great reasons to do that in Maryland, especially with the local rules and regulations being put in place. But I want to highlight that there are a lot of benefits to food waste diversion.
Zero waste is not the only goal that we can help with or that is related to diverting food waste from the landfill. Being zero waste and recycling and diverting more food waste actually touches on a lot of other pieces of the puzzle, like reducing greenhouse gases. Less methane produced in the landfill is obviously great for the environment.
Anaerobic digestion is an amazing step for the environment, and also creates a lot of goodwill within your community and within your company as a whole. This is a trending topic.
And it's not always more costly to be more sustainable. Sending resources to the landfill is environmentally a loss and sometimes can be a financial loss. So, finding resources and ways to recycle that material is not only great for the planet, but great for the company as well.
Getting started with food waste diversion: three key questions…
Abigail Keller: The first question we always ask our clients is, What are your goals? What are your sustainability goals? If you don't have any, that's totally fine. We can help develop them. Second is, What are current issues with the program that you have in place with waste and recycling? Sometimes that's a cost of services or the fact that they may not be efficient. So, that's kind of the second question, just kind of assessing the need. And then third is, Would you be interested in exploring ideas for food waste diversion, and just getting that initial interest from the company and from the organization at the state level, making sure they're on board for the challenge.
…then planning and training
Abigail Keller: The pre-planning and research stage is really important—understanding where your waste is coming from, where it's being collected, what kind of waste you're producing, what's going in the landfill and which type of end use is best for your material. Anaerobic digestion is great because it really captures a lot of the different material types. So, finding the best fit for your materials is key upfront. We always emphasize photos, samples, trial loads. Collecting the stuff upfront is just so important because you can—especially in terms of nutrient analysis on food waste—really determine what the best use is based on what kind of nutrients exist in your waste stream.
And proper training. Giving that training to site facilities, staff and corporations, and helping them understand that this this priority is important and it's totally possible and it's effective. Just setting up those motivators and those incentives behind the team is really a great way to overcome that initial challenge of uncertainty or fear of changing up the process.
Bottom line: Maryland is moving in right direction
John Neyman: We are getting a lot of questions now from clients about organics and what can they do to meet these requirements. So, there is a renewed interest by these larger corporate groups really inquiring. That's why we're focusing on customers that we think will be generated more than two times a week.
Dave Mrgich: Maryland Department of the Environment was thrilled when the Bioenergy Devco facility located in Maryland. I always considered anaerobic part of the process of recycling. The whole thing of food composting and organics is huge in Maryland.